English Sasha Dolls

Sasha Strawblonde Harlequin -Ltd Edition
1984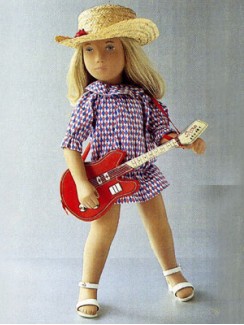 Pink/blue/white/diamond printed dress/pants, straw hat, canvas sandles, red guitar.
£300.00
Brunette Prince Gregor Limited Edition
1985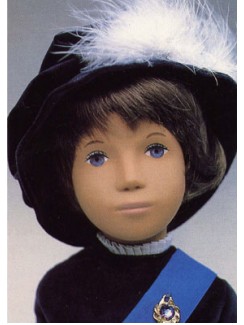 Navy velvet suit, hat with white plume, royal blue sash with pendant, patent shoes with jewel. Elura hair wig.
£300.00
Black Baby Cara
NEW
Code - 519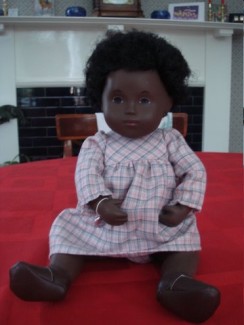 Grey/pink check dress and pants. Brown ankle strap shoes. Sasha Tag, slightly damagedbox
£200.00
Baby Blonde Nest
NEW

Code - 513s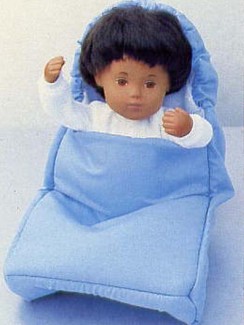 White stretched pyjamas, blue carrying nest. New (mint in box but no tag)

£175.00
Gregor Fair
Jump Suit - 2nd Hand
Code - 304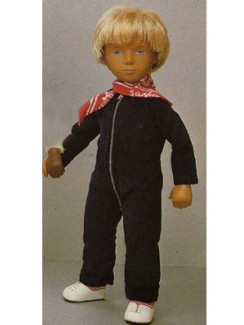 Navy cord jumpsuit, red scarf, white underpants, Red/white socks, white laced shoes (Mint in box) 1979-82
£250.00
Black Boy CALEB
2nd Hand
Code - 309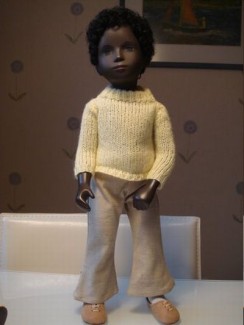 Yellow sweater, fawn cotton trousers, white underpants /socks, laced fawn shoes. 1975-79 No tag
£250.00
Sasha Brunette Pinafore - 2nd Hand
Code - 111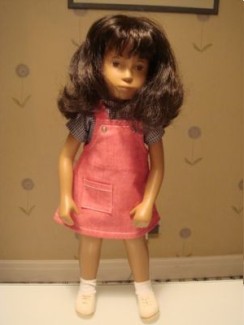 Red Pinafore Dress, Blue checked shirt White pants /socks, white canvas Shoes. No tag. MINT IN BOX.
£250.00
Baby Blonde Hair Sundress - 2nd Hand
Code - 502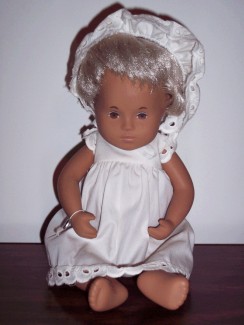 White broderie anglais trimmed dress/hat/pants. Mint condition. Made 1979-86 - No tag.
£175.00
Sasha Baby Brown White Bird - 2nd Hand
Code - 508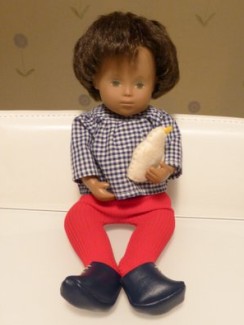 Gingham smock top. Red tights, blue bootees, white bird. Mint condition in box.
£175.00
Black Baby Girl
2nd Hand
Code - 4-509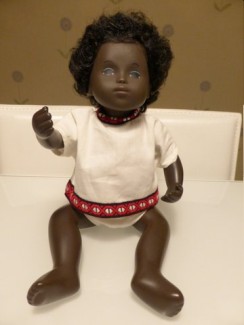 White cotton top/pants. White nappy. Mint condition in box. No tag. In polystyrene cradle.
£175.00
Caleb
Code - 309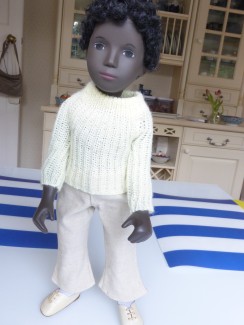 Sweater, cotton trousers, pants, socks, and laced shoes.
£250.00
Gregor Dark Jeans

Code - 301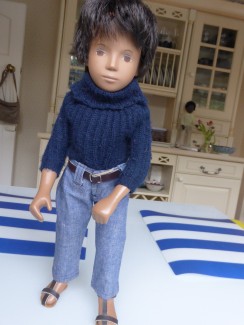 Sweater, denim jeans, pants, brown sandals.
£250.00
Red Head - 2nd Hand
Code - 653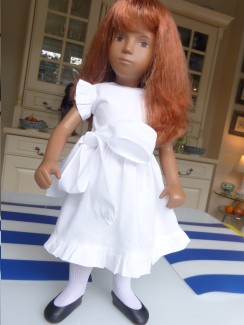 White dress, tights, black shoes.
£350.00
Black Girl Cora
Code - 109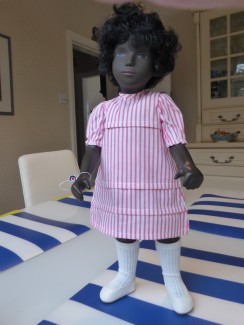 Pink/White summer dress, pants, vest, long socks, shoes and sasha tag ( No box ) Mint condition.
£300.00
Sexed Sasha Baby Girl
Code - 4-505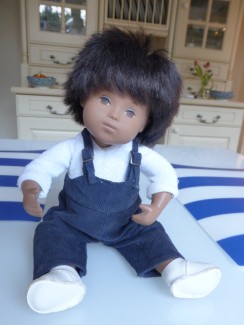 Playsuit Black hair.Mint condition, Stretch pullover, pants, dungarees and shoes.
£250.00